Farm workers in line for pay rise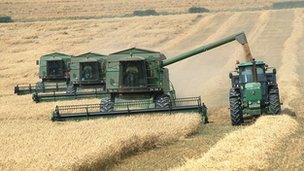 Farm workers are in line for a pay rise of between 1.8% and 2.8% from October this year.
The proposed pay rates were agreed by the Scottish Agricultural Wages Board.
Basic pay for workers with more than 26 weeks' continuous employment will rise by 19p per hour to £6.86, bringing the minimum wage for a 39-hour week to £267.54.
The basic rate for those employed for less than 26 weeks will increase by 11p per hour to £6.22.
Workers who undertake a Level 2 modern apprenticeship in agriculture will receive 11p more per hour, bringing the hourly rate to £3.81.
The wages board's proposals will be advertised over the next week and written representations on the rates must be sent to the board by 10 June.
It will meet again on 22 August to consider whether to put the proposed rates into effect.
The Scottish Agricultural Wages Board is an autonomous body comprising 17 members.
Six represent the interests of employers nominated by the National Farmers Union of Scotland (NFUS) and Scottish Land and Estates, while six represent workers nominated by the union, Unite.
The remaining five independent members are appointed by Scottish ministers.
Related Internet Links
The BBC is not responsible for the content of external sites.