Wet April weather hits Scottish retail sales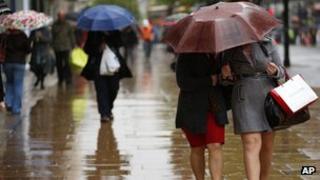 April proved to be a washout for many Scottish shops as cold and wet weather hit sales, according to a survey.
The Scottish Retail Consortium reported total sales fell year-on-year by 4.1%, with like-for-like figures down 5.2%.
The trade association said it was the worst April performance since it started its survey in 1999.
The data contrasted with March, when record-breaking temperatures helped shops achieve their best overall performance for nearly a year.
The Scottish government said there was "no denying" that retailers were facing tough trading conditions, but added there were "some signs of a recovery" in consumer confidence.
The retail consortium's survey suggested exceptionally wet and chilly weather during April hit clothing and footwear retailers in particular as non-food sales fell by more than 7% in both overall and like-for-like terms.
It said the latest figures were made to look worse in comparison with last year, when sales were boosted by more Easter holidays, the Royal Wedding and better weather.
But it warned confidence among retailers remained fragile and Scottish sales remained much weaker than the UK as a whole.
'Worrying picture'
Scottish Retail Consortium director Ian Shearer commented: "Our fears that the previous month's healthy sales were just spending being brought forward by good weather then, rather than any permanent revival in consumer confidence, have proved to be true.
"Unsurprisingly, demand for summer fashion and garden goods faded as the sunshine vanished.
"It remains a worrying picture, confirmed by big drops in footfall and continuing retail administrations. Times are tough for Scottish customers and retailers but may not be quite as bad as the headline figures suggest."
He added: "Even so, retailers are hoping a feel-good factor from this summer's events and warmer temperatures come to their aid soon."
A Scottish government spokesman said recent Retail Sales Index statistics showed rises in both values and volumes of sales in Scotland during the first quarter of 2012.
'Signs of recovery'
He continued: "This suggests that there are some signs of a recovery in consumer confidence, which supports what we are seeing more generally.
"The Scottish economy outperformed the UK over the last quarter of 2011, we have also seen a drop in unemployment, and employment in Scotland is consistently higher than across the UK as a whole.
"However, there is no denying that retailers are facing tough trading conditions and the Scottish government is helping them through this with measures such as the Small Business Bonus Scheme, as well as policies to protect household incomes, including the council tax freeze and abolishing prescription charges."
Scottish Labour's finance spokesman Ken Macintosh said the retail consortium survey showed that the the Scottish economy continued "to bump along the bottom".
"Unfortunately this is yet another key economic indicator showing Scotland - now for the 13th month in a row - lagging behind the rest of the United Kingdom," he said.
"Consumers simply do not have any confidence that either the Scottish or UK government is doing enough to promote growth; all the while we see an ever increasing number of stores closing and empty shops on our high streets."