Scottish unemployment rate falls again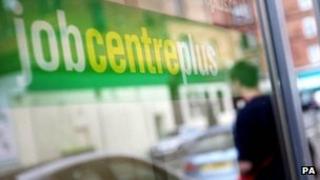 Unemployment in Scotland has fallen for the second time in a row, according to official figures.
The number of jobless fell by 10,000 between January and March, following a 12,000 drop in the previous quarterly figures.
The Office for National Statistics (ONS) data showed there were now 221,000 unemployed people in Scotland.
The Scottish rate currently stands at 8.2%, which is the same as the average for the whole of the UK.
The claimant count in Scotland fell by 900 in April to stand at 142,000. The level is up by 3,000 on a year ago.
The labour market statistics also showed employment in Scotland rose by 24,000 over the quarter to March.
The number of those in jobs now stands at 2,482,000.
The unemployment rate for 16 to 24-year-olds was 94,000, or 23.1%, over January to March.
UK unemployment as a whole fell by 45,000 over the period to 2.63 million.
'Ongoing uncertainty'
Responding to the figures, Finance Secretary John Swinney said: "This is the biggest rise in employment in Scotland since last spring, but unemployment remains far too high.
"There is absolutely no room for complacency, and more must be done.
"The ongoing uncertainty in the eurozone underlines that what is needed now to promote growth and create jobs is an injection of increased capital spending by the UK government."
Scottish Secretary Michael Moore described the latest fall as "encouraging and another step towards getting our economy back on track".
He said: "We still face difficult economic circumstances but taking action to tackle the deficit and create growth is helping create the confidence and stability we need to create and sustain jobs.
"We are also focusing on youth unemployment, which is currently higher in Scotland than the rest of the UK.
"We cannot afford to let up on our efforts in this area and I continue to work across government and with the relevant organisations to find ways to overcome the barriers facing our young people."
'Long way to go'
Scottish Labour finance spokesman Ken Macintosh said the drop in unemployment was welcome but there was "still a long way to go until we are out of the woods yet".
He added: "There are more people out of work now than this time last year, the number of women out of work remains stubbornly high and Scotland's unemployment rate is now the same as England.
"Being as bad as the rest of the UK is no cause for celebration. We must always aspire to be better."
The Federation of Small Businesses called the statistics "a small step in the right direction" but added there was more work to be done to get Scotland working and the economy moving.