Tennent's lager 'outperforming on-trade market'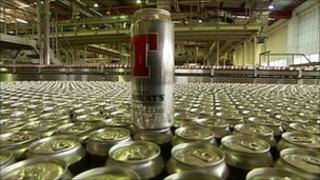 Scottish lager brand Tennent's is outperforming the on-trade market in Scotland despite a small decline in sales, its Irish owners have reported.
C&C Group, whose other brands include ciders Bulmers and Magners, said Tennent's was continuing to "build momentum across the Scottish market".
In the year to the end of February, Tennent's on-trade sales fell by 2% in Scotland.
But C&C said volumes in the Scottish on-trade market as a whole fell by 8%.
The drinks producer said the launch of Caledonia Best ale in the fourth quarter had been "well received in the on-trade", with the product rolled out to more than 1,000 points of sale across Scotland.
In the off-trade, Tennent's sales declined by 16%, which the group said was a result of its "pursuit of value growth".
Export markets
During the financial year, the group began exporting Tennent's brands to overseas markets including Australia, Italy, North America and Russia.
It also launched Tennent's Original Export, a premium lager, in April 2012.
Operating profits for the overall Tennent's division rose by more than 22.5% over the year to £22.3m.
However, C&C said revenues fell 1.9% due to "the volume lost in pursuit of improved unit pricing in the off-trade".
The group said its cider business was benefiting from Tennent's reach in Scotland.
The C&C cider portfolio now accounts for 31% of the Scottish on-trade draught cider market.