Advertising slump for Johnston Press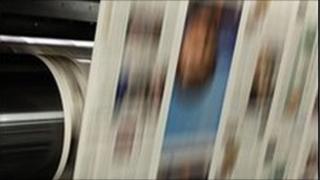 The newspaper and media group Johnston Press has reported a fall in advertising revenue since the beginning of this year.
Total advertising revenues in the first 18 weeks of 2012 were down 9.1% compared with the same period in 2011.
The steepest fall was in job adverts, although the company said the rate of decline slowed in this category and all others.
Circulation revenue was also down 2% compared with last year.
The latest audited industry figures showed circulation at The Scotsman fell by nearly 10% over the past year to 38,000, while its sister paper, Scotland on Sunday, was down nearly 14% to 47,500.
Johnston, which also publishes nearly 300 local papers, recently announced a revamp of many titles and plans to improve its online service, while moving many daily titles to weeklies.
In its latest statement, the Edinburgh-based group said digital revenues were up 13.9%.
The company, which has made a number of job cuts, said costs continued to be "tightly controlled" and it expected "further cost savings" would be achieved this year.
It warned the advertising outlook remained "volatile" but said it expected its full year results to be in line with market expectations.