Scottish jobs market 'improves strongly'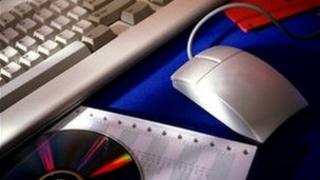 Scotland's jobs market has shown its strongest improvement for nearly a year, according to a new survey.
The latest Bank of Scotland report on jobs found both permanent and temporary staff placements rose "markedly" during April.
Recruitment agencies cited greater client demand, with vacancy growth also at new highs.
The report also suggested a further fall in candidate availability, while average pay rates increased modestly.
The Bank of Scotland's jobs barometer - which offers a snapshot of labour market conditions - stood at 55.8, up from 54.6 in February.
This was its highest level since May 2011 and well ahead of the equivalent index for the UK as a whole (51.5).
Measurements of 50 and above represent expansion, while numbers below 50 suggest contraction.
Of the eight sectors covered by the survey, IT and computing posted the strongest increases in both permanent and temporary job vacancies in April.
The availability of permanent staff fell for the second month in a row, while temp availability fell for the first time in almost four years.
Respondents particularly mentioned lower availability of engineers during the latest survey period.
Permanent salaries rose for the third consecutive month. Although the latest increase was only modest, it was in contrast to reductions recorded across the UK as a whole.
Temp hourly pay rates also rose during April, albeit at the slowest pace in three months.
Bank of Scotland chief economist Donald MacRae said: "The number of people appointed to jobs grew markedly over the month, as did the number of vacancies for both permanent and temporary jobs.
"This reinforces hopes that the slowdown in the Scottish economy experienced at the end of last year has not extended into 2012 and that we may yet see modest growth for the remainder of the year."