Survey shows footfall plummet at Scottish shops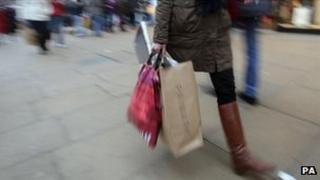 Shoppers deserted Scotland's high streets last month as footfall plummeted by nearly a fifth, according to a survey of retailers.
The Scottish Retail Consortium (SRC) said the 19.1% year-on-year drop was the biggest seen in any area of the UK.
Shopper numbers for the last quarter also showed a much sharper fall than anywhere else, dropping 12.6% compared with a fall of 2% for the UK.
The consortium cited poor weather and low consumer confidence as factors.
Its report placed Scotland as the hardest-hit UK location over the past three months, followed by the East and Greater London.
Wales was the only region to show increased footfall.
Shop vacancy rates in Scotland fell marginally to 9% in April from 9.1% in January.
SRC director Ian Shearer said the survey tallied with other indicators showing Scottish shoppers cutting back significantly, compared with a year ago.
He said: "It can only be a concern that over the last quarter Scotland has shown the biggest drop in footfall of any part of the UK.
"Some of that has been about one-off seasonal and weather factors but the essential picture remains of consumers lacking confidence, disposable incomes still being squeezed and fewer people shopping for anything that isn't an immediate need.
"Retailers are very much looking for some optimism returning when the sun does, and around this summer's major events."
Last week, the consortium reported a 4.1% year-on-year fall in total sales for April.
It said shops were hit by cold and wet weather, adding it was the worst April performance since it started its survey in 1999.