SDI agency outlines support for Scottish firms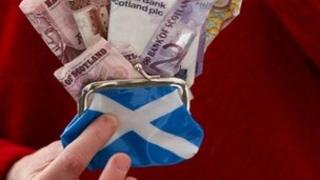 Scottish Development International (SDI) helped more than 1,000 "high-potential" firms target new global markets last year, according to its annual report.
SDI also assisted 190 companies on new international projects with a projected growth of £733m in sales over the next three years.
That was almost double the £405m achieved the previous year.
The agency claimed it helped create or safeguard more than 7,000 Scots jobs.
SDI is a joint venture between Scottish Enterprise, Highlands and Islands Enterprise and the Scottish government.
It helps Scottish companies expand internationally and works to bring inward investment to Scotland.
In its latest annual report, SDI said almost £22m of Regional Selective Assistance (RSA) support was offered to more than 30 inward investors to locate or grow their operations in Scotland.
More than 1,380 companies were also supported through a range of trade and investment activities, such as workshops, trade missions and market support.
'Global location'
Commenting on the annual report, SDI chief executive Anne MacColl said: "We know that a strong international strategy can completely transform a business by helping it to increase productivity, improve innovation performance and diversify its customer base.
"Equally important, is building on Scotland's success as a global location.
"Scotland has an outstanding international reputation and investments last year alone from global companies such Avaloq, Samsung Heavy Industries and Gamesa are testament to this."
Finance Secretary John Swinney said: "These results demonstrate that SDI is achieving substantial economic benefits to Scotland - attracting major inward investment, creating thousands of jobs, and helping Scottish businesses realise their international ambitions."