Sailing towards boating success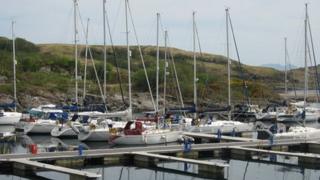 For Warren Scott and his wife Jill, there is nowhere better on earth to sail than the west coast of Scotland.
The couple, who have circumnavigated the globe twice, have returned to Scotland to enjoy the area's cruising waters.
They keep their boat Swn-Y-Mor (Sound of the Sea) moored in Tarbert Harbour at Scotland's longest sea loch, Loch Fyne.
From there, they can share their passion with a seemingly growing band of sailing enthusiasts from home and abroad.
Mr Scott considers the local waters the "pinnacle of cruising worldwide".
"From the English people we meet who come here, some of them are totally knocked out," he said.
"And it's not just the English. On the continent they are becoming more aware of the west coast as a cruising ground - it's not so crowded as it is down on the south coast.
"The added advantage is that it is like having your own wee cottage in the highlands if you have a boat here."
The Scotts are not alone in their passion.
Leisure boating is fast becoming a cornerstone of local economies and the sailing community are hoping to see the industry burgeoning further over the next few years.
A Scottish Enterprise report in 2010 suggested more than £100m is generated by sail and power boat tourism activity in Scotland alone.
And last November, a guide published by Tourism Intelligence Scotland predicted market share for the sailing industry could increase to £145m in the next 10 years.
Growing interest
Mike Balmforth, from the Scottish Boating Alliance, commented: "People, whether they have large boats or small boats, have a capital investment and therefore they continue to use it.
"This means the service side of the industry and the facilities are continuing to be used."
Tarbert Harbour is hoping to capitalise on the growing interest in sailing.
This year it secured a £200,000 grant from the Scottish government's Enterprise Growth Fund to create 40 additional berthing facilities that will allow it to accommodate up to 160 boats.
The chairman of the Tarbert Harbour Authority trustees, Alan MacDonald, said the economic downturn had done little to put people off sailing.
"Despite the recession, a lot of the boats coming in are bigger than they used to be so half the new berths will be to accommodate these bigger vessels," he said.
"The other half will be able to relieve the system and allow us to take any growth that appears over the next few years. At least we will be ready to make the most of it once the recession goes."
The local economy is already benefiting from the growth in interest, with a number of businesses opening in the harbour area, included an optician, two supermarkets and several restaurants.
Transformation
Tarbert's success is not a one-off.
Across Loch Fyne is Portavadie, where millions of pounds have been spent in recent years on a marina, boatyard, shore facilities, a restaurant and holiday accommodation.
Portavadie Marina now has 65 full and part-time staff in an area where there was virtually no employment five years ago.
General manager Iain Jurgensen explained how Portavadie had been utterly transformed over the past few years.
"In 1975 this place was blasted out to create a dry dock and at that time oil rig construction, and the fabrication of it was based around cement as opposed to steel," he said.
"So at the very time this facility was finished, the construction material changed, which actually made this place redundant.
"It largely remained a white elephant for 30-odd years until the current owners embarked on this vision."
Mr Jurgensen said Portavadie did not see itself as being in competition with other harbours and marinas on the west coast.
He argued: "We are in competition on a global market. We are hopeful we have tapped into a market that has not perhaps existed."
Having started a few years ago with about 25 staff, Portavadie owners expect to employ between 100 and 120 within the next two to three years.
But some local business people would like to see more done at a national level to encourage faster growth.
Loch Fyne Gallery owner Steve Bleasby said: "I think the sailing clubs by and large do a good job - they obviously sell it the best they can.
"But in terms of the government, I really don't think they understand the significance of the economic impact of sailing to small communities like this, and the west coast in particular.
"When people people step off the boat, they are on holiday.
"By and large they like to go for a drink, something nice to eat and then they like to browse around and go shopping. They are looking to spend some money - quite a lot of money in some instances."
You can hear more about the business of sailing and how much it contributes to the Scottish economy by listening to BBC Radio Scotland's Business Scotland programme on Sunday at 10:05. It will be available to hear again on BBC iPlayer and by free download.