Three Scottish cities draw young professionals buying property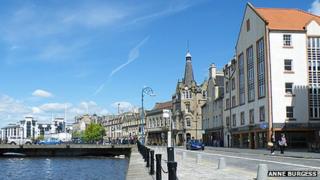 The ten most popular areas for young Scottish professionals to buy property are all in major cities, according to research by the Bank of Scotland.
The bank's survey identified four areas in Edinburgh, and three each in Glasgow and Aberdeen.
The most popular location was the EH6 post code district in Edinburgh, in and around Leith.
According to the bank, most of the top ten areas have prices lower than the Scottish average.
Beyond the major cities, the research identified Hamilton and Paisley, both close to Glasgow, as a draw for young professionals.
Nitesh Patel, a housing economist at the Bank of Scotland, said: "The typical profile of young professionals is that they tend to have university qualifications, are in well paid occupations and like to take full advantage of living in or close to the city, either for work or leisure purposes.
"Our analysis certainly supports this with areas within Edinburgh, Glasgow and Aberdeen identified as the leading hotspots for young aspiring urbanites."
Although those buying in the G12 post code district of Glasgow have been paying a premium of 79% above the average for the city, most areas featuring in the bank's top ten remain relatively cheap.
Mr Patel added: "Unlike in many other parts of Britain, young buyers in Scotland don't always have to pay a significant premium for a property to live in these areas.
"In fact, in many of the leading hotspots young professionals can benefit from prices that are lower than those in the city as a whole."