Chivas Brothers outlines £40m whisky investment plans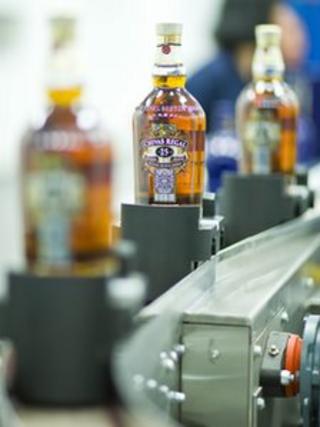 Drinks firm Chivas Brothers has outlined a £40m investment programme as it seeks to meet growing demand for whisky in emerging markets.
The company is to reopen a mothballed distillery in Banffshire and expand four existing distilleries as part of its plans for the year.
Chivas will also open a new bottling hall at its Paisley headquarters this summer.
The distiller is owned by French drinks giant Pernod Ricard.
Chivas aims to boost its malt whisky distillation capacity by 25% over the next year with expansions at the Glenallachie, Glentauchers, Tormore and Longmorn distilleries.
Glen Keith is expect to reopen in April 2013, having been mothballed in 2000.
New heat recovery technology is also being introduced to make stills 25% more efficient.
The new bottling hall in Paisley will focus on the hand-bottling of high-end products such as Chivas Regal 25, the Royal Salute range and limited editions of The Glenlivet and Ballantine's.
The company said its £40m investment programme for the year was in line with average amounts spent annually over the past few years.
Chivas Brothers chairman and chief executive Christian Porta commented: "We are committed to a capital expenditure of £40m annually to further increase our distillation capacity and production facilities.
"This investment, allied to strong market growth, a continued commitment to innovation and the best suited portfolio to target the most profitable opportunities, will provide the basis for future value growth for our company."