A taste of life in the eurozone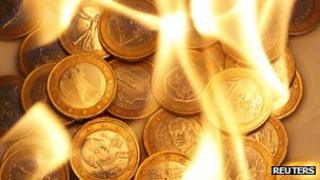 It is early afternoon in the small kitchen of a central Glasgow restaurant and one of the chefs is preparing monkfish for the evening service.
This is all about the flavours of Greece. The idea is to produce something close to home cooking.
Ioannis Panagiotidis has been one of the chefs at the Elia restaurant for some months now.
He saw the job advert while he was still at home in Greece and although he was working there, he did not see prospects for himself and his family.
He tells me: "Things in Greece are very difficult. In my occupation, too many hotels, too many restaurants are closing.
"I've been doing this 12 years and the last two or three years it's very, very rough.
"If they're still open, they don't pay well or they don't pay regularly. Too many problems... I wanted to get out".
He does not see himself going back home any time soon.
eurozone crisis
It is evidence that the eurozone crisis is not confined to the countries which have been hardest hit.
Mr Panagiotidis is just one of the many Scotland-based restaurant staff with continental European backgrounds who have been watching developments closely.
His boss at the Elia restaurant, George Ieronymidis, has been in Scotland for 18 years now.
He still keeps in close touch with what is going on back home but has recently cancelled his subscription to a Greek TV channel because he cannot face watching the news.
"I was there in August," he says. "I was there at Christmas and I'm planning to go next month."
Every time he returns he sees differences.
"My brother's working as a volunteer at a soup kitchen, a church soup kitchen and that is increasing dramatically.
"People have no food to eat. I don't think that should be happening in a European country," he adds.
Italian voices
Italy is also well represented in Glasgow city centre.
In a bustling restaurant, coffee is being drunk. As well as English, there's the sound of Italian being spoken.
Michele Arrighi is co-owner and director of Sarti in Renfield Street.
This is a business which has always employed a lot of people from Italy, but Mr Arrighi has noticed a difference more recently.
He explains: "More and more Italians are just coming in off the street with their CV just asking us: 'Do you have any jobs available? I'll do anything - I'll can be a kitchen porter, I used to be waiter in Italy'.
"We've got school teachers coming in, we have factory workers, car makers, accountants, believe it or not. It's very, very difficult for anyone in Italy to get a job."
Spanish chat
At Malaga Tapas in Glasgow, the lunchtime rush is in full flow. It is hot in the kitchen as a wide variety of dishes is prepared. The chat is in Spanish.
Cristobal Gonzales and his business partner want to bring a bit of Spain to Glasgow... in spices and flavours.
Although he has been in Scotland for some time, he is still in touch with people back home.
"It's sad to see how people lose so much money and property," he says. "But I like to look positive and think things are going to get better and hope for the best."
Over at Tinto Tapas on the southside of Glasgow, Belen Crespo Ilario has just started her shift. The 25-year-old from a small town just outside Alicante has been in Glasgow for about four years.
"Young people in Spain at the moment do not have a future and that's extremely sad," she comments.
"Now for me, going back to Spain makes no sense whatsoever - so many young people leaving the country. It's a lost generation."
You can hear more on the views of Europeans in Scotland about the eurozone crisis by listening to BBC Radio Scotland's Business Scotland programme on Sunday at 10:05. It will be available to hear again on BBC iPlayer and by free download.