Scottish engineering firms showing growth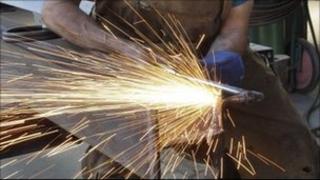 Scottish engineering firms have reported "healthy growth" after a lean three months at the end of last year.
According to the sector's latest update, orders and staffing increased.
It follows a period of falling activity and negative sentiment at the tail end of 2011.
However, the chief executive of the industry body, Scottish Engineering, criticised politicians for delaying major decisions on the constitution and education.
In the first six months of this year, while staffing levels within the industry were described as high, many companies reported skills shortages, particularly for welders.
The amount of overtime being worked also increased, and capital and training investment was mostly up, or around similar levels to the previous quarter.
"Fiddling politicians"
Commenting on the results, Dr Peter Hughes, chief executive of Scottish Engineering said: "We have seen how the engineering manufacturing sector has once again come up with the goods. Orders and output are a joy to behold.
"It is reassuring to know that whilst our politicians fiddle, our engineering manufacturing sector is getting on with the job of winning business across world markets and in so doing is making a great contribution to our nation's wellbeing."