Scottish timber harvesting at record high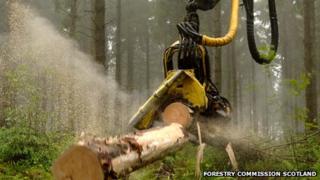 Timber harvesting in Scotland has reached its highest level on record, according to official figures.
Forestry Commission Scotland said 7.5 million cubic metres were harvested in 2011, which was half a million more than the previous year.
At the same time, Scotland's sawmillers produced 7% more sawn timber, with much of it being sent to markets in England.
The forestry sector is estimated to contribute £670m a year to the Scottish economy and support about 31,000 jobs.
Forestry Commission Scotland said timber prices overall were 2% higher in real terms, and favourable exchange rates were helping businesses boost the home market as imports reduced.
'Robust health'
Environment Minister Stewart Stevenson said the figures showed that Scotland's forestry sector was "in robust good health".
"As a mainstay of our rural economy, forestry plays a vital role in safeguarding communities and businesses across the country - and is increasingly winning a bigger stake in the domestic and international timber markets," he said.
"The other good news is that Scotland's forests are maturing and over the next 10-15 years we expect to see further increases in harvesting. This should result in a steadier supply and bigger volumes of timber produced from Scotland's forests."
He added: "This is an excellent position from which to build a stronger sector in the years to come."
Confederation of Forest Industries, chief executive Stuart Goodall welcomed the figures.
He said: "The bigger picture is very positive.
"We have been increasing output but we cannot be complacent. We need to plan for the future and ensure that we are creating new woods, which will allow us to sustain that level of activity.
"What we are worried about is that while we have sustainable activity going on, we are seeing some losses of forests to things like wind farms," he added.