Scottish economic growth stalls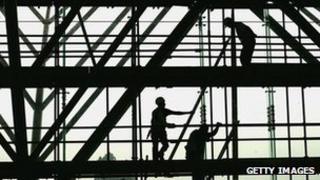 Growth in Scotland's privately-owned businesses slowed in May to a 17-month low, according to the latest research.
The Bank of Scotland Purchasing Managers Index (PMI), which monitors economic activity, said new orders placed last month rose only marginally.
The service sector fared worse than manufacturing.
According to the survey, the only "bright spot" was a "further reduction in input cost inflation to the weakest for over two-and-a-half years".
The weak growth of new business in Scotland was "comparatively slower" than across the UK as a whole.
Overall employment levels were flat, although there was an increase in hirings at manufacturing companies. However, that was offset by job cuts at service firms.
This was in contrast to "robust" job creation in April, when payroll numbers rose at the fastest rate for nearly three years.
Donald MacRae, chief economist at Bank of Scotland, said: "Growth in the private sector of the Scottish economy slowed sharply in May but remained positive.
"In contrast, manufacturing returned to modest growth in the month, with new export orders increasing for the third month in a row. All businesses will benefit from the reduction in input cost inflation.
"Weakness in the domestic economy is being offset by export demand, but it is insufficient to generate a more robust recovery. The Scottish economy is struggling to maintain growth momentum in the face of the global slowdown."