Cairn Energy buys Nautical Petroleum for £414m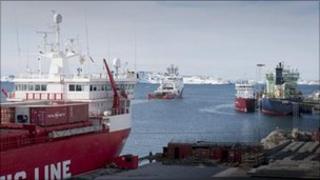 Edinburgh exploration company Cairn Energy has agreed to buy Nautical Petroleum for £414m.
Nautical is a London-based firm but its operations are mostly based in UK waters, west of Shetland.
The acquisition is part of Cairn's strategy to build up businesses which will be producing oil in the near term
It follows a two year campaign in Greenland where the company has so far failed to find any commercially viable deposits of oil.
The Arctic programme has so far cost the company £500m.
The group recently sold off a 30% stake in one of its Greenland exploration licences to Norwegian group Statoil as part of a plan to bring in a partner to share the costs of exploration in the Arctic.
Cairn however said it was still "committed to Greenland" and was "excited about the potential of the region".
Cairn's chief executive Simon Thomson said: "Cairn sees Greenland as having the DNA for transformation potential. Going forward we will have reduced capital commitments compared to the early levels so far."
Cairn said it would pay 450 pence for each Nautical share, representing a 51% premium to Nautical's closing price.
It is the company's second acquisition in as many months. Cairn bought Norwegian rival Agora Oil and Gas in April.
Of the latest deal Simon Thomson said: "This acquisition is another step towards building a balanced portfolio of transformational exploration, appraisal and development assets, and complements our recent acquisition of Agora to help build a platform in North West Europe."