Crown Estate study says wind costs could drop by a third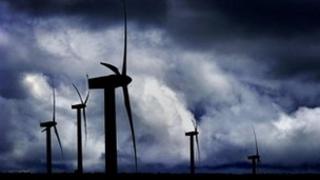 The costs of offshore wind farms could be cut by almost a third by the end of the decade, according to a new study.
A report by the Crown Estate said measures such as building bigger turbines and improving design could reduce costs by 30%.
They also said involving suppliers earlier in the planning process and mass producing deep water foundations would help.
The body called for greater competition within the turbine industry.
The Crown Estate, which leases the sea-bed, said there needed to be greater competition in the supply and installation of turbines and foundations from within the UK, Europe and the Far East.
It said the UK government also needed to provide certainty to develop the supply chain, with a smooth and timely introduction of planned reforms to the electricity market, which aim to overcome the high capital costs of energy sources.
'Decades ahead'
The UK government wants to see up to 18 gigawatts of offshore wind - about a fifth of the UK's electricity demand - installed by 2020, providing prices can come down.
Slashing the costs of offshore wind would create jobs and investment, help achieve targets for generating electricity from renewables and deliver secure energy supplies, the study said.
It would help make offshore wind energy more competitive with nuclear power and coal or gas plants using carbon capture technology.
Charles Hendry, the UK energy minister said: "Offshore wind will be a vital part of a diverse and secure low carbon energy mix in the decades ahead. But we are clear that the costs must come down."
Adrian Gillespie, of Scottish Enterprise, the Scottish government agency, commented: "The importance of reducing the cost of electricity generated by offshore wind is imperative and an issue we have been working on with the renewables and oil and gas industries."