SSE buys up Irish power stations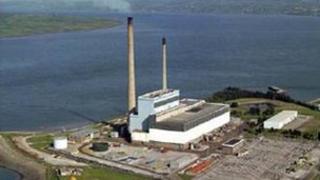 Energy company SSE has agreed to buy four power stations and other Irish assets from Endesa in a deal worth a total of £390m.
Endesa is one of the largest utilities in Spain but is owned by an Italian group called Enel.
Enel is selling the assets to help offset weak power demand in its core Italian and Spanish markets.
If the deal gets regulatory approval, Perth-based SSE will become the third largest energy company in Ireland.
The Scottish firms will pay £256m for the assets and is also putting in a further £134m which will be used among other things to finish construction on a plant at Great Ireland in Wexford.
It will also invest in a further large power generation facility at the site of the existing Tarbert plant in Kerry.