Scottish job market 'showing resilience'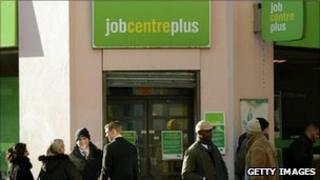 The Scottish labour market is "showing resilience" with permanent and temporary job placements rising last month, a new report has found.
Both types of placement rose strongly in May, though at sharply reduced rates from the highs in April, according to the Bank of Scotland Report on Jobs.
The availability of permanent staff fell for the third month running, though temporary availability rose.
The report also found that permanent salaries increased strongly.
However, hourly pay rates for temporary work were unchanged from April.
Donald MacRae, chief economist at Bank of Scotland, said: "The Scottish labour market continued to improve in May but at a lower rate than in the previous month.
"The number of people appointed to jobs rose while the number of vacancies for both temporary and permanent jobs increased sharply, indicating demand for staff from employers.
"The Scottish labour market is showing resilience in the face of the global slowdown of 2012."
The report found that permanent placements increased to the greatest extent in Edinburgh during May, while recruitment agencies based in Glasgow saw the strongest rise in positions for temporary staff.
The IT and computing sector saw the strongest growth in both permanent and temporary vacancies, followed by secretarial and clerical work.