Scotland 'top for overseas investment'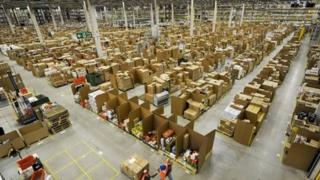 Foreign companies are more likely to choose Scotland than other parts of the UK to invest in, according to an annual survey.
Ernst and Young said 5,926 jobs were created through overseas investment last year, up by 50% on 2010.
The figures put Scotland at the top of the jobs table for the second year.
The increase was tempered by a drop in the number of projects, down from 69 to 51, which is a faster decline than the rest of the UK.
Ernst and Young senior partner Jim Bishop said: "Such a dip is not unusual given the volatility of annual project numbers.
"As things stand, overseas companies looking to invest in jobs in the UK are more likely to choose Scotland than any other part of the country.
"The report shines a spotlight on the positive contribution made by Scottish Development International and the Scottish government, which have ensured that Scotland remains an attractive proposition among international investors."
Independence debate
The report suggests the early stages of debate on Scotland's constitutional future appear to have had little effect on investment, but that any impact may become apparent later this year.
Mr Bishop said the country's attractiveness to overseas investment should be a key point in the independence debate.
The top investors were business services companies, followed by software, machinery and equipment firms.
The greatest number of jobs was created in the retail and logistics sector, with Scotland benefiting from online retailing projects.
The US remains the biggest single source of FDI projects and employment in Scotland.
Norwegian investments in Scotland, focused mainly on the oil and gas industry, created more than 400 jobs.
Mr Bishop said: "The strong growth and increasingly globalised perspective of many emerging markets will make them important sources of investment in the future.
"Inward investment cannot be viewed separately from the overall economy and establishing two-way trade patterns is essential.
"The US is a major export market for Scotland, in addition to being our main source of FDI.
"You look at Germany and the links it has with China, which are creating a range of potential Chinese FDI drivers.
"Further moves to attract investment to Scotland must take this into consideration and policymakers need to ensure their strategies reflect underlying economic circumstances."
Anne MacColl, chief executive of Scottish Development International, highlighted figures showing the country's ranking in the UK and Europe.
Scotland secured a third of all research and development (R&D) projects in the UK, up 19% on the previous year.
The country is ranked 6th in Europe for R&D and received a quarter of the European R&D projects to the UK.
'Competitive hotbed'
She said: "These figures are very encouraging and underline the importance of continuing to focus on attracting high-value jobs, based on Scotland's strong R&D capabilities and sector strengths, which will become embedded in Scotland's economy in the long-term.
"The figures also show that Scotland continues to perform strongly in terms of being an attractive business environment that is conducive to the research and development of major international projects.
"Recent successes including Gamesa and Toshiba, as well as Avaloq, further highlight Scotland's growing reputation as a global partner of choice."
Finance Secretary John Swinney said the report showed that the actions of the Scottish government and enterprise agencies were delivering new investment and jobs to Scotland in tough times.
He said: "Scotland works hard to attract international investment, demonstrated by the large number of major multi-national firms - such as GlaxoSmithKline, Aker Solutions, Amazon, Samsung, Mitsubishi and others - who have all recently invested in Scotland.
"This government and our enterprise agencies work closely with business and industry to ensure the country continues to be a competitive hotbed of ideas and the most competitive environment to do business in the UK."