New wind farm support vessel for Largs firm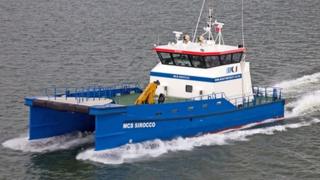 A Scottish maritime services company has taken delivery of a new offshore wind farm support vessel as part of a £6m investment.
Maritime Craft Services (MCS) said the Sirocco would go into service at the Thornton Bank Offshore Wind Project in Belgium for contractors Tideway.
It will mainly be used to transfer personnel to and from the project's base port in Ostend.
MCS will also take delivery of a sister ship - Pampero - at the end of 2012.
The Largs-based company said the investment demonstrated its intent to be a major player in the worldwide renewables sector.
Sirocco brings the number of vessels in MCS's fleet to 16.
Managing Director Dirk Kuijt said: "In UK waters alone, there are 16 offshore wind farms currently in operation, six under construction and a further 16 either given consent or in planning.
"And with numerous other offshore projects around the world, we believe there are significant opportunities for an experienced company committed to providing the very best logistical support to contractors and project owners."
MCS, which has 140 staff, has been in business since 1976.
For the past 10 years it has operated on a number of international offshore wind farm projects including the UK's London Array and Sheringham Shoal, and Germany's Bard Offshore 1.