BT to roll out superfast broadband to 150,000 homes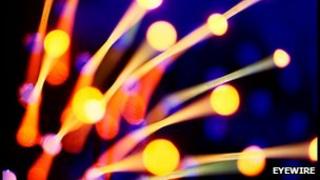 Superfast broadband will be made available to another 150,000 Scottish homes and businesses next year, BT has announced.
The investment is part of a £2.5bn roll-out of fibre broadband by BT across the UK.
The move will take the total number of homes and firms in Scotland who will have superfast broadband as an option to nearly one million.
BT said it would be "a massive shot in the arm" for local economies.
BT Scotland director Brendan Dick said: "Local firms and households who make the switch to fibre broadband will be able to do so much more with their connection, whether they're using it for business, entertainment, education, social networking or shopping - or all of these at once.
"They're joining more than 10 million premises now passed by our fibre network and becoming part of one of the fastest roll-outs of the technology anywhere in the world," he added.
'Modern world'
Infrastructure Secretary Alex Neil said communities across Scotland should have access to superfast broadband, no matter where they were based.
"Everyone recognises the importance of access to superfast broadband, not just for our local economies but for every aspect of life in the modern world," he said.
BT's local network business, Openreach, aims to make fibre broadband available to about two-thirds of UK homes and businesses by the end of 2014, using a mix of fibre to the cabinet (FTTC) and fibre to the premises (FTTP) technologies.
By spring 2013, the firm aims to make speeds of 330Mbps commercially available in any area where fibre broadband has been deployed.
The UK's current average broadband speed is 7.6Mbps, according to regulator Ofcom.
On Monday, the Scottish government announced it would spend £120m to bring superfast broadband to communities in the Highlands and Islands.
Public agency Highlands and Islands Enterprise (HIE) is in discussions with BT about delivering the upgrade.
The programme of works will include laying underground and sub-sea cables.
The spending forms part of the Scottish government's Scotland's Digital Future: Infrastructure Action Plan .