Perth firm Stagecoach reports dip in profits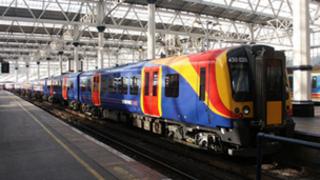 Transport group Stagecoach has posted a small drop in underlying profits after seeing revenue growth at its rail division slip behind schedule.
The Perth-based company blamed the 44% drop in rail profits for the year to 30 April on losses at East Midlands Trains in the first half of the period.
The division grew revenues by 6.6% to £1.14bn but the performance was below expectations.
Stagecoach reported a 6.3% improvement in UK regional bus profits to £162.7m.
Underlying profits for the company stood at £202.5m for the year, compared with £205.7m a year earlier.
Stagecoach said its UK rail division made an operating profit of £27.1m, down from £48.4m in 2010.
"This reduction was principally due to losses incurred at East Midlands Trains in the first half of the year where revenue was below the level forecast when the contract was originally awarded, and the premium payments made to the Department for Transport ("DfT") were agreed," the company said in a statement.
"From November 2011, East Midlands Trains has earned revenue support payments from the DfT, which have returned that business to profitability for the second half of the year."
'Growth potential'
The transport operator said North America was now the company's fastest growing division, with the continent offering "good growth potential".
In May, the group announced a £100m deal to buy parts of Dallas-based bus firm Coach America, which was declared bankrupt earlier this year.
It will acquire nine of Coach America's businesses, including operations in Texas and California.
The Scottish group said the purchases would enable it to expand its megabus.com budget coach network.
The deal is now awaiting regulatory approval.
'Organic growth'
Stagecoach chief executive Sir Brian Souter said: "We continue to see good organic growth in our bus and rail services in the UK and North America.
"Our UK regional bus operations are delivering good returns with different management approaches applied to respond to the different conditions in each of the markets in which we operate."
He added: "We are excited about the next phase of our growth plan for our budget coach brand, megabus.com. As well as testing the market in Europe, we are expanding to new locations in North America where the response to the product from consumers has been particularly strong.
"The planned acquisitions from Coach America will enable us to expand our US business at a reasonable price while further underpinning the development of megabus.com in targeted regions."