New Scottish food standards body planned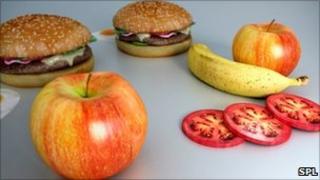 Ministers have announced plans to create a new food standards body in Scotland.
The move follows a review commissioned by the Scottish government.
It stemmed from a UK government decision to move responsibility for nutrition and food labelling in England from the Food Standards Agency (FSA) to other departments two years ago.
The new Scottish body will cover food safety, standards, nutrition, labelling and meat inspection.
It will operate at arms-length from the Scottish government.
Primary legislation will be required to create the new body, and ministers said they planned to consult on options before the end of this year.
'Scottish approach'
Public Health Minister Michael Matheson said the changes in England "removed significant capacity" in the FSA's nutrition and labelling functions for Scotland, which needed to be addressed.
"A new body will allow a Scottish approach to be taken to tackle poor diet and food-borne diseases and should support our food and drink industry in growing its strong, international reputation for safe, quality food," he said.
"We will establish a new body which is independent, evidence-based, consumer-focused and transparent."
The move follows the recommendations of the Scudamore review, commissioned after the UK government moved responsibility for nutrition and food labelling in England from the FSA to the Department of Health and the Department of Environment, Food and Rural Affairs in 2010.
The FSA is an independent food safety watchdog which was set up by the UK government in 2000 in an effort to protect the public's interests.
'Vital roles'
Responding to the announcement, Consumer Focus Scotland director Marieke Dwarshuis said: "The consequences of poor food safety measures can be devastating and people want to know that the highest standards and controls are in place.
"We are pleased that this new Scottish body is intended to be transparent and consumer-focused and we look forward to seeing the detailed proposals on how it will carry out its vital roles."
The British Medical Association (BMA) Scotland also welcomed the announcement.
Dr Sally Winning, deputy Chair of the BMA's Scottish Council, commented: "The BMA believes that accurate food labelling and clear information is imperative to encourage the public to make informed choices about their diet. Nutritional labelling must be clear, simple and easy to understand."
However, trade union Unison said it was concerned that a new body for Scotland could result in a watering down of standards.
It argued it was "vital" that any changes to the delivery of the Scottish Meat Inspection Service were aimed at enhancing consumer protection and animal welfare in Scotland.
Scottish organiser Dave Watson said: "Our members are rightly concerned of any move that may weaken public protection and thereby damage the Scottish meat industry.
"We need to move away from the 'boom and bust' approach to regulation that has, in the past, resulted in serious outbreaks of food poisoning, such as the Wishaw E. coli outbreak."