Rangers' administrators Duff and Phelps scoop award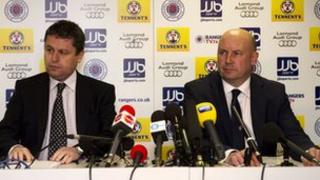 The administrators of Rangers Football Club have scooped a top award from a finance magazine.
Duff and Phelps announced it had been chosen as UK Corporate Restructuring Advisor of the Year at the recent ACQ Finance Magazine Global Awards 2012.
Duff and Phelps were selected following nominations from readers of the magazine.
The readers were asked to assess the quality of service received rather than the size of billings.
Duff and Phelps partner Paul Clark said: "The awards highlight outstanding performers across the professional services spectrum and celebrate the best advisors working across the world - as identified by the readers of ACQ Finance Magazine.
"It is a real achievement for us to be recognised, not only locally, but also on a global scale by our peers, and one in which our entire team can take great pride."
No-one at ACQ magazine was available for comment.
Court of Session
Last week, a judge at the Court of Session ordered Duff and Phelps to prove there was no conflict of interest over their role as administrators of Rangers.
The move by Lord Hodge followed a recent BBC documentary which raised concerns about the issue.
Lord Hodge said he took no view about the BBC programme.
But he said Duff and Phelps should produce a report showing they had obtained and acted on legal advice on the question of conflict of interest.
The report demanded by Lord Hodge is expected to be ready in the next couple of weeks.
Rangers was forced into administration by HM Revenue and Customs (HMRC) on 14 February over non-payment of tax totalling about £14m.
Last month it emerged that Duff and Phelps agreed with owner Craig Whyte to cap their fees at £500,000 two days before they were appointed.
Emails obtained by BBC Scotland revealed the firm also agreed to try to minimise the time spent in administration.
The administrators have since negotiated a sale of the club's assets to a consortium led by Charles Green for £5.5m.
The old company is now set to be wound up by HMRC's preferred liquidators BDO.