Aberdeen firm SeaEnergy seeks advice over unit sale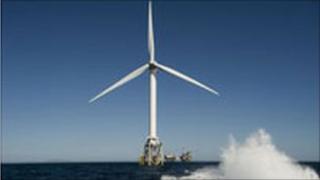 Energy services firm SeaEnergy is "taking professional advice" over cash withheld from the sale of its offshore wind unit to Spanish oil giant Repsol.
The firm was due to receive a retained sum of £3m plus interest from Repsol on Thursday, after selling SeaEnergy Renewables Ltd (Serl) a year ago.
But it said Repsol had withheld almost £850,000 of the outstanding amount over a warranty claim.
Aberdeen-based SeaEnergy added it was taking advice on the claim's validity.
It confirmed it had received the balance of £2.15m, plus interest, from Repsol.
The firm disposed of its entire 80.13% interest in Serl for a total of nearly £40m after deciding to shift its focus to oil, gas and marine services.
Serl had an interest in several offshore wind farm sites off the Scottish coast.
Under the deal, SeaEnergy was due to receive a cash consideration of £30.7m, along with full recovery of its £8.1m investment in Serl.