Oil and Gas body says tax incentives could create jobs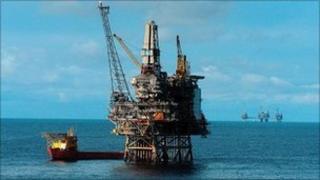 The oil and gas industry has warned Britain will miss out on tens of thousands of new jobs unless the Government offers more tax incentives.
The report from Oil and Gas UK said firms operating in British waters are investing a total of more than £11bn in the country this year.
It claimed a change in the tax regime could generate a further £5bn.
The Treasury has said measures introduced in the Budget were welcomed by the industry.
The report said there has been constructive engagement with the Government on the tax regime in the last year, but warned more needs to be done to encourage investment in older fields.
Oil and Gus UK's Chief Executive Malcolm Webb said the Treasury stands to gain from in the coming years with the right regime in place.
He said: "The problem is, there are a number of other, what we call, fiscally tax stranded investments out there at the moment that won't go ahead unless they get those sanctions.
"The numbers are quite impressive, if we get the right incentives in place, we can have £5bn in extra investment."
Strong support
Mr Webb also said that the extra investment would spur further job creation.
A Treasury spokesman said the Government would be implementing the "strong support package" announced in the budget, which the industry had welcomed.
He said that included significant measures on decommissioning relief.
He added that the Government would continue constructive discussions with the industry.