Report highlights 'pick-up' in Scotland's economy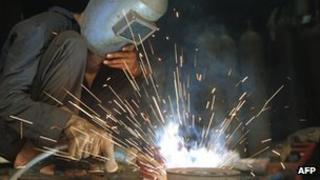 Scotland's economy fared better last month, with growth in both the manufacturing and service sectors, according to a survey.
The latest Bank of Scotland Purchasing Managers' Index (PMI) showed an improvement in employment levels and a slight increase in new business in the private sector.
The data is in contrast to May, when growth fell to a 17-month low.
The findings have been described as a "welcome pick-up".
According to the survey, the rate of growth was stronger than that recorded at the UK level.
The rise in employment levels in June marked the seventh increase in the past eight months.
Meanwhile, a marginal decrease in new work placed with manufacturers was more than offset by growth in the service sector.
Donald MacRae, chief economist at Bank of Scotland, said: "The June PMI showed a welcome pick-up in the Scottish economy with both manufacturing and services recording growth.
"Employment rose across all sectors while cost pressures continued to ease.
"However, the marginal rise in new orders overall and the fall in new export orders illustrate the challenge of maintaining growth in the face of a widespread slowdown in the UK and the Eurozone economies."
Finance Secretary John Swinney said: "Despite the ongoing challenges, there are positive indications that the recovery continues in Scotland.
"This latest PMI survey indicates that private sector growth remains positive for the 18th consecutive month and that new business continues to grow.
"Scotland outperformed the UK as a whole in terms of output growth, new orders and employment generation."