Glasgow and Aberdeen airports see passenger numbers up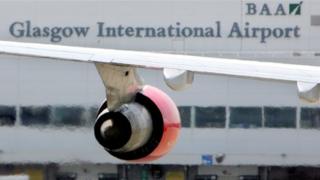 Passenger numbers have risen at BAA's two remaining Scottish airports, Glasgow and Aberdeen.
Glasgow saw year-on-year growth of 4.5% last month, boosted by strong demand for international travel.
Aberdeen achieved a 1.3% increase in traffic, despite facing weather disruption during the month.
This week Edinburgh Airport - which was sold off by BAA earlier this year - reported a drop of 3.9% in passenger numbers for June.
It blamed a drop in domestic traveller numbers for the year-on-year fall.
Glasgow said its figures had been helped by an increase of 8.5% in international travel, coupled with the launch of several new long-haul services including Emirates' second daily service to Dubai.
'Extremely challenging'
Airport managing director Amanda McMillan said: "Achieving growth in the current economic climate has been extremely challenging, but by adding a host of new services we have been able to provide passengers with greater choice and flexibility and this has been a major factor in our success to date.
"Maintaining this level of growth will be difficult but the strong performance of a number of our airline and travel partners - including easyJet, Jet2.com, Barrhead Travel and Icelandair - has been very encouraging.
"We hope this trend will continue throughout the busy summer months."
Growth at Aberdeen Airport was more modest than in previous months, rising 1.3% on the year, after heavy fog forced the cancellation of 150 flights over several days.
Aberdeen Airport managing director Derek Provan commented: "This year is shaping up to be one of our strongest for some time, with growth across the domestic and international sectors.
"Despite the continuing economic uncertainty, and the impact of punitive taxes such as APD, Aberdeen Airport remains very much in growth mode."
A total of 9.1 million passengers passed through BAA's five UK airports in June, an increase of 0.7% on June 2011.