Wind farms sign radar data deals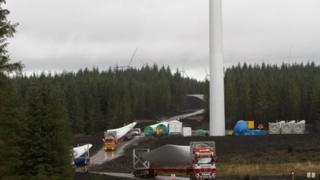 Energy firm ScottishPower Renewables (SPR) has signed agreements with several wind farm developers in central Scotland to help them tackle air traffic control issues.
The deals give the developers access to data from SPR's custom-built radar station in Kincardine.
SPR said the agreements could help address "potential radar concerns".
It added wind farm developers could use the data to help with planning applications.
The energy firm's radar station data provides a second point of reference for air traffic controllers to check that airspace is free from potential turbine interference.
The radar station was built by SPR in 2006 to meet concerns raised by Glasgow Airport and National Air Traffic Services (Nats) when the energy firm was seeking planning permission to build Whitelee wind farm near Eaglesham.
Whitelee fully opened in 2009 and is now the largest onshore wind farm in Europe.
SPR claimed the agreements, which cover a total of five wind farms in central Scotland, could help to "unblock" up to 110MW of renewable energy that is "currently restricted to potential radar concerns".
SPR added it was talking "with many more developers" seeking to build wind farm projects and it hoped to reach further agreements in the near future.
'Stumbling block'
SPR UK managing director Simon Christian said: "Radar issues have long been a major stumbling block for wind farm developers.
"During the planning process for Whitelee, the project was held up for a number of years until the radar solution was found.
"By offering radar solutions to other developers we will help to unblock a significant amount of renewable energy, benefiting the wider industry and helping further towards achieving carbon reduction targets."
SPR is part of a cross-industry aviation group set up in 2009 to look at potential solutions to radar issues in Scotland.
The steering group consists of wind farm developers, the operators of Glasgow, Edinburgh and Prestwick airports and Nats.
SPR said as much as 4GW of renewable energy potential could be hampered by radar concerns.