'Signs of slowdown' in Scottish economy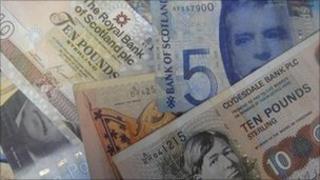 There are signs of a slowdown in the Scottish economy with little or no growth for the rest of the year, according to a new business survey.
The Scottish Chambers of Commerce's (SCC) latest quarterly report suggested a weakening in business activity in the second quarter of 2012.
Firms also reported a more cautious outlook for the third quarter.
It also found optimism expressed by businesses at the beginning of 2012 had become "less evident".
The SCC said increasing worries over a slowdown in the global economy, together with the debt crisis in the eurozone and continuing austerity measures by the UK government, had combined to weaken business sentiment, expectations and activity.
Weak consumer confidence was also cited as a reason.
'Below expectations'
The survey, which was conducted in conjunction with the University of Strathclyde's Fraser of Allander Institute, suggested the manufacturing sector continued to perform well, but "outcomes remained lower than expectations" and optimism had fallen back considerably.
It also indicated that construction businesses continued to perform below expectations, despite the "continued and welcome efforts by the Scottish government to maintain and extend levels of capital spending in our economy".
Business confidence was weak across all sectors, according to the survey, with confidence falling among manufacturing firms and remaining negative in construction and retail. A level trend in confidence was reported by tourism respondents.
Negative growth
SCC head of policy Garry Clark said: "The optimism evident at the beginning of 2012 is less evident now, and the signs, both internationally and at home, are of a slowdown and return to negative growth.
"With few exceptions, demand and both consumer and business confidence remain weak and the outlook for the rest of the year is one of little or no growth."
He added: "It is clear that the additional stimulus of infrastructure spending must be backed up with action to ensure that Scottish-based businesses are able to reap the maximum possible benefit from these new contracts."
Responding to the survey, the Scottish government said an independent Ernst and Young study suggested Scotland had the best record of inward investment in terms of job creation anywhere in the UK.
Enterprise Minister Fergus Ewing said: "In Scotland, we announced last month that we are bringing forward a £105m package of economic stimulus to maximise opportunities and we continue to urge Westminster to follow our lead and invest now to promote economic growth in future."