Scottish farmland values 'continuing to grow'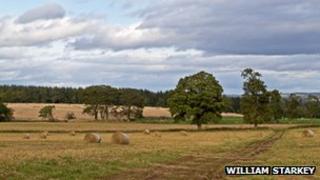 The average value of Scottish farmland has almost doubled over the past five years, according to a report by property consultants Knight Frank.
Its latest Scottish farmland index suggested values rose by 3% on average during the first half of 2012.
But growth slowed slightly in the second quarter of the year, with prices increasing by just 1%.
Top quality arable land is now worth about £7,000 an acre, with ploughable grassland valued at £3,600.
Hill land is worth about £614 an acre.
Knight Frank predicted further growth of 3% over the next 12 months, as a result of strong demand and "a dearth of good farms for sale".
Head of farms sales in Scotland, James Denne, said: "People are still positive about farmland, but they are being slightly cautious at the moment.
"North of the border we tend not to see as much activity from investors as in England.
"Most of our buyers are farmers and they take a fairly canny view when it comes to buying more land. Anything that is too fully priced runs the risk of attracting limited interest."