Aberdeen firm Asco acquires Scrabster Port Services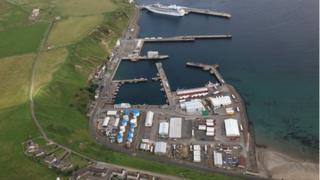 Oil and gas logistics group Asco has taken full control of Scrabster Port Services as it seeks to develop a major hub for offshore exploration and production support west of Shetland.
The Aberdeen-based firm, which already owned 50% of Scrabster, bought the rest of the company for an undisclosed sum.
Asco said the purchase of Scrabster supported its international growth strategy.
Scrabster Port Services was established in 1997.
Chief executive Andrew Macdonald said: "Scrabster will be a key logistics hub as the substantial West of Shetland fields come on-stream in the coming years.
"It offers established quayside services and a fast, direct shipping route to offshore fields from the UK mainland.
"Our presence in Scrabster is great news for our clients who are actively looking for suitable, efficient logistics solutions to support their work in the northern North Sea and to service the west of Shetland."
Scrabster Port Services has acted as a hub for offshore and production support west of Shetland, on the Atlantic frontier and in the waters surrounding Faroe.
It also handles cargo tonnage and works with cruise ship and research vessel operators.
A development programme is currently taking place at Scrabster to expand its deepwater quay, offering increased berthing capacity.
This is Asco's second acquisition in recent weeks, having bought international safety training and lifting specialist North Sea Lifting Ltd (NSL) which is based in Aberdeen.