Scottish retail sales 'stagnate' in June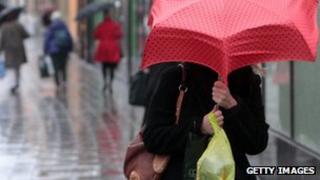 Scottish shop sales stagnated last month as mild and wet weather cooled demand for summer clothes and outdoor leisure goods, a survey has suggested.
The Scottish Retail Consortium (SRC) said total sales were up by 1.2% on a year ago.
But like-for-like sales - which strips out the effects of new store openings - did not show any growth.
Scottish sales growth lagged behind the UK as a whole for the 15th month in a row, although the gap narrowed in June.
The research, run in conjunction with KPMG, also indicated that big-ticket purchases continued to struggle and were often promotion-led, amid ongoing consumer caution.
SRC economist Richard Lim said: "With shops full of seasonal stock, retailers are hoping a possible Indian summer delivers some salvation.
"Food and drink retailers are faring the best in a weak market but when inflation is taken into account, volumes of sales are likely to have declined.
"There was a boost in the run-up to the Jubilee celebrations as shoppers bought in party foods for the long weekend but it wasn't on the same scale as seen in our UK-wide statistics."
'Tread water'
Mr Lim added: "Retailers are discounting aggressively to encourage shoppers through their doors and to maintain the many thousands of jobs which depend upon the sector.
"Falling inflation offers some hope with signs that the squeeze on real disposable incomes are easing, but a fundamental revival in consumer spending may be some way off yet."
David McCorquodale, head of retail in Scotland for KPMG, said: "Yet again Scotland's retail performance was weaker than the UK as a whole and this cannot be entirely attributed to the nation's reduced appetite for Jubilee celebrations, which provided a fillip to retailers in other regions of the UK.
"A number of factors are combining to make times particularly challenging for retailers and the vast majority are now resorting to heavy and sustained promotional campaigns, which impact negatively on margins, just to tread water," he added.