Scots closing broadband gap on UK, Ofcom survey reveals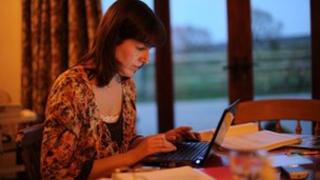 Scots are closing the broadband gap on the rest of the United Kingdom, though it still less connected.
Figures from the regulator Ofcom show that 68% of households in Scotland have access to internet by broadband at home, up from 61% last year.
That includes growth in the use of mobile broadband.
But last year's figures also showed a markedly lower level of online connections for Scots, 13 percentage points behind the 74% UK figure.
With UK connections up to 76%, that gap has closed to 8 percentage points and Scots are now in a similar position to people in Wales and Northern Ireland.
The Greater Glasgow area has been an unusually slow adopter of broadband, with only 50% of households connected last year, but that has now risen to 60%.
That is only partly explained by the poverty levels in Glasgow, as survey evidence gathered last year and going into more depth than the Ofcom survey, shows that the lower levels of uptake can be found at all socio-economic levels and all age groups.
'Hang back'
Vicki Nash, Ofcom director for Scotland, suggested the reasons that explain the Glasgow effect include cost, while people have also told researchers they do not have the skills, or there is a lack of incentive from friends and family to get connected.
Ms Nash said: "It's good news that we're closing the gap - for consumers realising the benefits of technology, and for society as well. If public services are available online, then it's important that people can access them there.
"Scotland is starting to engage more. While many already did, maybe there's been a reluctance among other people in Scotland who hang back, seeing how it goes, maybe thinking prices would come down."
Other findings from the communications research are that mobile coverage is available from all four providers of 3G signals in 68% of premises - higher than Wales, with 52%, and Northern Ireland with 56%. However, more of Scotland's land area lacks 2G coverage than other parts of the UK.
The first Ofcom survey of postal service use shows Scots are posting less often. Only 51% claim to send items by post regularly, with the UK average at 58%. Scots are more likely to prefer sending an email than posting a letter than their neighbours, with 2.5 items per month to the UK average of 3.1.
Scots also spend longer watching television, on average, with 4.5 hours per day, 30 minutes longer than the UK average.
Survey results from across the UK show use of mobile texting has replaced conventional phone calls or face-to-face meetings as the most frequent way for UK adults to keep in touch.
The average UK consumer now sends 50 texts per week, with more than 150 billion text messages sent in 2011. About 90 minutes are spent each week, on average, using social networking sites and email, or using a smart phone to access the internet. For the first time, the annual survey has found fewer phone calls being made on both fixed and mobile phones.