Home turf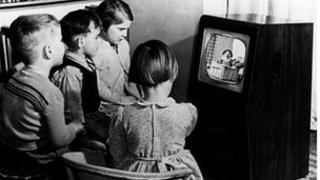 The British family is returning to the traditional hearth, gathered in the living room.
Traditional family values, or huddling together to keep the heating bill down?
Neither. We're 'turfing' - watching the less traditional, high-definition TV screen (47% of Scots claim to have one, and more in rural areas where it's more likely satellite-linked), while texting and Tweeting on our keyboards .
Whatever the distractions of the three internet-connected devices in the average home, with 32% of people now wielding a smart phone (nearly doubled in a year in Scotland), television still comes out top in popularity.
It's the device we're most reluctant to give up, and particularly appealing in Scotland, it seems, where we watch an extra 30 minutes over the UK average of four hours per day. We also like them big - more than a third of TVs sold at the start of this year were 'super-large' or 'jumbo'. That's a screen bigger than 33 inches.
That's not just because it's aye been there. Habit is not sufficient to maintain usage of the telephone. People are choosing to phone each other less, preferring to send an average 50 texts each week. That's more than doubled in four years.
Although 94% of British people have a mobile phone, for the first time there's a decline in the number of calls being made, by landline and by mobile, and also in the revenue stream from calls.
Time is now being spent on social networking sites and on email - an average 90 minutes.
Slower adopters
Such are the findings of the latest snapshot of our connectedness from Ofcom, the sector's regulator.
For the first time, it's looked into our postal habits, to find nearly half of Scots use only first class stamps, when only one in six say the mail's needed the next day.
That's among the Scots who post much any more. We're losing touch with the Royal Mail at a faster pace than our southern cousins, and keener on emailing to stay in touch.
Yet, there's a contradiction in the figures, perhaps explained by quite a small survey sample for some questions. Asked about attitudes to spending on communication, Scots also claim to be slower adopters of email over post; less likely than the UK average to buy telecom bundled packages, less likely to use a price comparison website, and less likely to shop online to save money.
The biggest difference in attitude to such spending is to newspapers.
Scots claim to be more reluctant to give up their paid-for newspapers in favour of the free variety or online news. Publishers wish they'd make that count in the marketplace.
And in listening to radio for more than three hours on average per day, Scots like their Scottish-produced commercial radio, rather more than south of the border tune in to their advertising-supported offerings.
Digital Clyde divide
The annual Ofcom survey has been notable for highlighting the digital divide between Scotland and the rest of the UK.
This year's findings offer some cause for relief that it's shrinking, and Scotland's now in line with Wales and Northern Ireland. It's still some way behind England, with 68% of households having access to broadband to the UK average of 76%.
Greater Glasgow is the most striking outlier of all. Rural Scotland has higher broadband uptake, but on Clydeside, social classes D and E had only 36% take-up of broadband last year, compared with 61% for Scotland as a whole.
That gap represents people who can't get access, at home at least, to cost-cutting offers for utilities. Children don't have access to information to help them with homework. Public services are harder to access, and have to be provided more expensively.
But it's not just poverty that explains a lower uptake of broadband.
Drawing on more detailed survey material, Ofcom reckons that the digital divide exists in Glasgow even at the upper end of the socio-economic scale, as it does when comparing like-with-like on age.
The best explanation for that is that the peer group incentive to get online and keep in touch is less pressing in the city.
Perhaps Glasgow is a more traditional place where people prefer to meet face-to-face, or use that old-fangled dog 'n' bone.