Oil firm Dana Petroleum reports 80% rise in revenues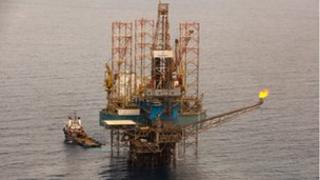 Oil and gas firm Dana Petroleum saw revenues soar last year, boosted by a big rise in production.
The Aberdeen-based company reported an 80% increase in revenues to $1.7bn (£1.08bn), while profits came in at $292.6m (£187m).
Production increased by 50% to almost 62,000 barrels a day, lifted by multiple drilling successes in Egypt.
Dana also reported exploration and development successes in the UK North Sea, the Netherlands and Egypt.
Operational highlights in its annual results for last year included the award of additional exploration acreage in the UK, Norway and Cameroon.
A total of 25 production-related wells were drilled during the year, with particular successes reported in Egypt (Calum-1x and Omar-1x) and the UK (Goosander, Chestnut and Captain).
Dana also completed 12 exploration and appraisal wells in 2011, making a number of discoveries including in the UK Southern North Sea and the Van Ghent East oil discovery in the Netherlands.
The company said it was on track to grow production to more than 100,000 barrels a day by 2016.
It plans to invest more than $5bn over the next five years to more than double the size of the company.
Group chief executive Marcus Richards said: "With steady and sustainable production, we are reinvesting the cash Dana generates to fund a range of exploration, development and production activities across the portfolio, with immediate successes already being realised in both the UK and Egypt.
"These are exciting times for Dana. We are growing, not only in terms of size, financial success and production but also geographically, and we are building an exceptional team to ensure a bright future."