RJ McLeod secures contract to create Helix project lagoon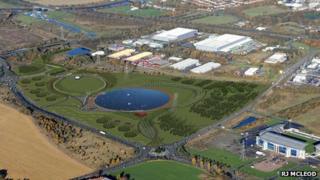 Another contract has been awarded as part of the Helix horses head project which will see two 30 metre steel statues towering over central Scotland.
Glasgow firm RJ McLeod was given the £8.5m contract to create "public" elements of the scheme, including a new lagoon for water activities.
It will transform 100 acres between Falkirk and Grangemouth into parkland, with the working title Central Park.
The horses heads, called Kelpies, were designed by public artist Andy Scott.
The whole project will cost more than £40m - £25m of which comes from the Big Lottery Fund. The work to be delivered by RJ McLeod, whose headquarters are in Glasgow's east end, will form a core element.
A number of full and part-time jobs, as well as 12 traineeships, will be created.
The Helix Trust's programme director Mike King said, "The 'Central Park' is the beating heart of the project and this latest contract award will help establish key connections between the various elements of the Helix.
"The award also signifies another significant step forward in creating what will be one of the most exciting and unique community and visitor experiences in the UK.
"RJ McLeod's track record for delivering large scale projects made them a sound choice to take this ambitious programme forward."
Jamie Corser, business development manager of RJ McLeod, said, "We are very pleased to be awarded this contract, not just because we are able to play our part in delivering this exciting project but it also assists in us being able to provide sustained employment for our staff and operatives, many of whom are from the central belt."
RJ McLeod's contract follows three other major awards announced by the Helix Trust in the last 10 weeks, including a visitor centre inside one of the Kelpie's heads.
The project is scheduled for completion next summer.