German firm in Scottish wind turbine deals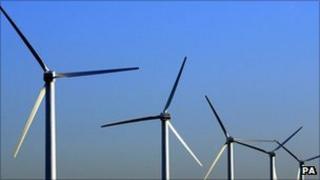 A German firm has signed contracts to supply turbines for three onshore wind farms in Scotland.
Repower Systems is to build five turbines for Wathegar Wind Farm in Caithness.
It will also produce a total of 10 turbines for International Power's Blantyre Muir Wind Farm in South Lanarkshire and Barlockhart Moor near Glenluce in Dumfries and Galloway.
Together the turbines can supply enough power for more than 17,000 homes.
The deals, together with two other contracts in England, will bring Hamburg-based Repower's overall UK capacity to more than 1GW.
Since its launch in 2004, Repower UK has delivered 39 onshore wind farms in Scotland, England and Wales and two offshore wind farms - Project Beatrice in the North Sea and Ormonde wind farm in the Irish Sea.
Chief executive Andreas Nauen said: "Reaching 1GW of signed contracts is a huge achievement for us.
Repower UK is enjoying a period of steady growth, having signed contracts totalling 190MW since the end of last year.
"I believe this demonstrates the growing reputation of Repower turbines in the British market, and is a solid indication that the wind sector remains in good health."