China dives into North Sea waters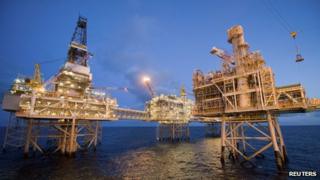 China stormed into the North Sea oil and gas industry this week as deals worth about £11bn were signed with major players.
The deals saw two Chinese state-controlled oil companies take stakes in North Sea operations.
China's biggest offshore oil producer CNOOC announced a $15.1bn (£9.7bn) deal to take over Canadian rival Nexen.
If approved, the Chinese would take control of the UK's largest producing oil field - Buzzard - and the Golden Eagle development, which includes both the Golden Eagle and Peregrine reservoirs in the North Sea, about 43 miles off Aberdeen.
On the same day, Beijing-based Sinopec said it was paying $1.5bn (£970m) for a 49% stake in Canadian oil firm Talisman's UK North Sea business.
Talisman has about 2,500 staff and contractors and is involved in 11 North Sea installations.
Together, the deals would give the Chinese firms control of more than 8% of oil and gas production in the UK North Sea.
Meeting demand
So what lies behind this sudden burst of interest from Beijing?
One explanation lies in China's need to meet growing demand for energy as its population and economy grow at breakneck speed.
Its massive trade surplus has also been driving the country towards investing into producing assets.
These latest acquisitions underline that China wants to be more than just a buyer of oil. It also wants to own oil fields.
Aberdeen University oil and gas expert Prof Alex Kemp explains: "It is certainly from the Chinese point of view part of a wider strategy to obtain more equity oil to enhance their security of supply.
"They have had a big increase in import requirements and they are worried about over-reliance on Middle East supplies given the political issues there."
The deals will also offer an opportunity for the Chinese to undertake oil swaps.
These work as a two-way deal, whereby the commodity is sold to a company in Europe in return for which oil is supplied to them from a location closer to China. Such a move would tackle the problem of transporting oil halfway around the world.
Chilly waters
The latest deals have suggested that the two Chinese companies have slightly differing reasons for dipping their toes into the chilly waters of the North Sea.
According to Dr Keun-Wook Paik from the Oxford Institute for Energy Studies, Sinopec and CNOOC have different characteristics.
In the case of Sinopec, he says, the company has been looking at how to diversify its supply sources and build up a speciality in offshore development.
On the other hand, its smaller counterpart CNOOC has been more proactive in seeking foreign deals, even though it has had its reversals in recent years.
In 2005, CNOOC's attempt to buy US-based oil giant Unocal - now part of the Chevron group - was blocked by American authorities following a political backlash.
"Since Unocal, CNOOC have been struggling to find a major M&A (merger and acquisition) which would allow them to expand the company's turnover level quite significantly," says Dr Paik.
He argues that CNOOC has "all the time been looking for offshore opportunities" but their focus lay outside the European region.
The acquisition of Nexen would boost its production output by a fifth and substantially increase proven reserves.
Global expansion
But Sinopec has been no slouch either in terms of global expansion, most notably with the $7.3bn (£4.7bn) acquisition in 2009 of Addax Petroleum - an international oil and gas exploration and production company focused on Africa and the Middle East - and the $7.1bn (£4.58bn) takeover of Repsol's Brazilian assets in 2010.
The two Chinese companies may have all but ignored the North Sea in the past but that has very much changed, according to Dr Paik.
"Previously they thought that the North Sea had virtually dried up," he explains.
"In recent years they have seen a number of major discoveries in the Norwegian area of the North Sea and realised there were opportunities."
Dr Paik believes the Chinese will be looking at more opportunities to expand their regional base in Europe.
"They will try to figure out how to develop a stronger working relationship with European companies," he adds.
Prof Kemp agrees that more deals could follow.
"These are two state-owned companies and they have deep pockets and they will look at other opportunities when they come in here.
"That is all to the good because there are smaller companies finding it difficult to access capital."
The entry of the two Asian firms could prove to be a boon for North Sea production, if the experience of Aberdeen firm Dana Petroleum is anything to go by.
Dana, which was taken over by the Korea National Oil Corporation (KNOC) in late 2010, reported soaring revenues last year boosted by a big rise in production.
It said revenues increased by 80% to $1.7bn (£1.1bn), with production increasing by 50% to almost 62,000 barrels a day.
The figures were lifted by multiple drilling successes in Egypt but Dana also reported exploration and development successes in the UK North Sea.