New high in number of Scottish business collapses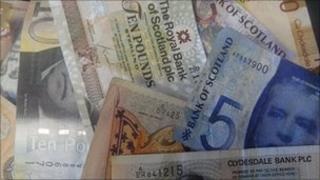 The number of companies going bust in Scotland has reached a new record high.
A total of 420 firms became insolvent or entered receivership in the first quarter of the financial year, according to figures released by Accountant in Bankruptcy (AiB).
That is 9.1% up on the record level set in the previous quarter, and 22.4% higher than the same period last year.
It included 348 compulsory liquidations, 62 creditors' voluntary liquidations and 10 receiverships.
Law firm Pinsent Masons said a marked increase in the number of compulsory liquidations indicated an increasingly contentious approach to liquidation.
Glasgow-based partner Joanne Gillies said the figures made "stark reading".
She added: "It is notable that it is compulsory liquidations that have shown the most significant increase, up by almost 40% on the same period last year.
"That would suggest that creditors are increasingly reluctant to accept further delays in payment in a market which shows no signs of improving.
"This effectively means that contentious insolvencies are on the rise and we'll see more disputes played out in the courts."
Personal insolvencies
Meanwhile, the number of personal insolvencies in Scotland rose by 14.9% to more than 5,600.
In total there were 3,310 awards of bankruptcy, showing an increase of 26% on the previous quarter.
AiB said the rise could in part be explained by an increase in the number of people applying for bankruptcy before higher fees were introduced in June.
The number of debt payment programmes approved under the Debt Arrangement Scheme continued to rise, showing an increase of 56.9% on the previous quarter.
The Scottish government-backed scheme is an alternative to bankruptcy which is designed to help people in debt pay back what they owe over a longer period.
Fees increase
Enterprise Minister Fergus Ewing said: "The rise in bankruptcies, specifically applications for bankruptcy from debtors, can partly be attributed to a rush prior to 1 June before application fees increased.
"I fully expect this trend not to continue into the next quarter.
"However, we must not be complacent and instead face up to the challenge that these difficult economic times place upon us.
"AiB is working closely with stakeholders to develop debt relief and debt management options for the people of Scotland."
Mr Ewing added: "It is important that individuals in debt receive appropriate information, at the right time, which is focused on their own particular needs."