FirstGroup speeds up UK bus division overhaul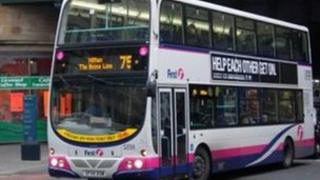 Aberdeen-based FirstGroup has accelerated its plans to overhaul its underperforming UK bus division.
The transport group has been seeking to raise more than £100m by selling off the weakest parts of its operations.
In a trading update, the company reported the division had a "steady performance" in the last quarter.
But it said it was accelerating plans to "place the business on a firm footing to achieve sustainable growth in patronage and revenue".
The announcement came as chairman Martin Gilbert was confirmed in his role at the company's agm, despite media speculation that he could be asked to step down.
Mr Gilbert, who has been on the group's board of directors since 1995, received 92% of votes cast by shareholders.
Earlier this year FirstGroup warned that margins at its UK bus division would be squeezed from 13% to 8% this year, largely as a result largely of poor growth rates in Scotland and the north of England.
In the last quarter, its bus operations recorded a 2.2% increase in like-for-like passenger revenue, despite what the group called "challenging economic conditions that continue to impact a number of our urban operations".
'Clear direction'
It continued: "During the period we saw an improvement in revenue trends from our Scotland and North of England businesses, whereas in keeping with industry trends, our businesses in the South have experienced a reduction in concessionary volumes.
"We have a clear direction and are executing a detailed plan to recover performance and equip the business to achieve increased revenue and patronage growth and have seen some early positive signs in some of our markets."
FirstGroup said the majority of its UK bus operations generated good returns "with opportunities to improve further".
It added: "However there is, as previously reported, scope to reposition our portfolio through a programme of selected asset and business disposals, to focus on those markets that offer the greatest potential for growth.
"Our strategy remains to bring those businesses to the market in select tranches to ensure stability for our employees and operations. We are confident of the opportunities to progress our disposal programme with potential purchasers with limited competitive overlaps."
FirstGroup said trading for the group as a whole during the last quarter was in line with its expectations.
It said it was still encouraged by progress in its North American operations, while UK Rail continued to see strong passenger and revenue growth.