Still, mustn't grumble, eh?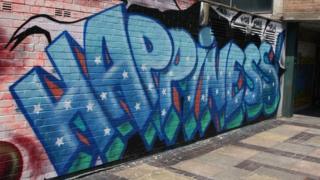 It was in struggling to find the essence of Britishness that the Labour leader, Ed Miliband, struck upon the common thread that runs through the nation; the expression "mustn't grumble".
That is, of course, often the prelude to a grumble. And given the weather this summer, plus the £9bn cost of staging the Olympic Games, we've surely earned the right to a world-class whinge should we wish one.
This week, the economic news has given us plenty more opportunity. Yet it's a ledger of wellbeing that is being stacked heavily with information on both sides.
The lurch backwards for the economy with the Office of National Statistics estimating a 0.7% decline in Gross Domestic Product in the second quarter left many stunned.
It's not just ammunition for the government's opponents. It's notable how much its friends in business are using this as evidence to push for a change in strategy.
CBI Scotland came out with its own, rather smaller sample of evidence on industrial trends, which seemed to capture where we're at: orders may be modestly up, but optimism is not. It found there's some investment in product innovation, but not in buildings, plant or equipment.
Suspect figures
Yet the GDP figures are hard to reconcile with other evidence about jobs, both in unemployment falling and private sector job creation, also from the ONS, and in purchasing managers' take on the order book.
Both of these suggest things ought to be improving, and that the 0.7% figure is a bit suspect.
So if those numbers don't quite add up, what about an alternative measure of wellbeing, other than the aggregate of all the economy's output; good, bad, lethal and unsustainable?
That's where the Office of National Statistics has been asking what shapes our mood.
You stand the best chance of contentedness if you're married, in a job, healthy, either younger or a bit older (my middle aged group is the least happy) and if you live on a Scottish island. No big surprises there, particularly to those who know the islands, on a good day.
That conclusion reflects the findings of a widespread survey asking if people feel satisfied with their lives, if they feel what they do in their lives feels worthwhile, and the extent to which they felt happy or anxious the day before the survey question was put. Overall, there are pockets of discontent and unhappiness, more likely if you're a disabled person, single or of African descent.
Feelgood faith
But overall, the 'mustn't grumble' factor came through. Some 76% of us rated our happiness scored at least seven out of ten, and 80% gave those marks to a sense of feeling worthwhile.
There are other measures of wellbeing being tested, as published in an ONS report last year. How happy, for instance, should you feel to know your electricity is renewably sourced? Actually, survey evidence found most people's idea of a good environment is having a park nearby.
The survey for ONS also surprised the statisticians with the extent to which people's sense of wellbeing is tied up with their faith or beliefs, notably for Christians. And some responded it adds to their quality of life to know their politicians can be trusted and held accountable. That is, living in a democracy has a feelgood factor.
Perhaps the most circular element of wellbeing is defined as "the value of recognising the importance of well-being in the lives of consumers and customers".
That is, it adds to your wellbeing to know that someone cares about your wellbeing. That makes a lot of sense when you think about it. Simply being asked what we think can make us feel a bit more, well, worthwhile.
Career blight
This stuff is easily derided. But it's worth noting that a withering dismissal from Labour brought the strongest rebuke to his own side that I've seen in the five years since Lord Jack McConnell left the Scottish Labour leadership. He reckons wellbeing and mental health must be taken much more seriously in politics.
It matters all the more to find some reason to be cheerful when the economic data weigh so heavily.
And they weigh heavily in more than abstract terms about GDP. In yet another survey of 1,500 workers, published this week by consultants Lane4, most responded they have no career path, most haven't had a pay rise in two years, and a third think their skills and qualifications are going unused.
If that's an accurate guide (and be aware that Lane4 is a motivational consultancy), we're doing well for so many of us to be grumbling so little and sounding so satisfied with our lives. Something's going right, even if it's not the gross product of our collective efforts.