Olympic Games: VisitScotland in tourism drive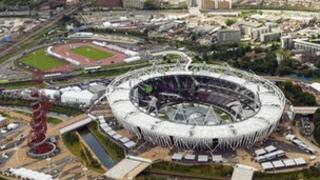 Scotland's national tourism body has cranked up its efforts to draw visitors north of the border as the Olympic Games get under way in London.
VisitScotland has moved staff into a temporary venue set up on London's Pall Mall by ministers to showcase Scottish industries and promote investment.
The agency will use Scotland House to promote events such as the Glasgow Commonwealth Games in 2014.
It said the Olympic Games were a "golden opportunity" for Scots tourism.
The move is part of VisitScotland's Surprise Yourself campaign, which aims to encourage more visitors to Scotland.
It follows a heavy TV, press and radio advertising campaign to capture the "getaway" market, targeting those living in south-east England.
VisitScotland chairman Mike Cantlay said: "Today sees the start of a golden opportunity for Scottish tourism, and we've been poised and ready for some time to seize it with both hands.
"The south-east of England is Scotland's largest domestic market in terms of visitor numbers, and VisitScotland's domestic campaign Surprise Yourself has been specifically up-weighted over recent months to position Scotland as the ultimate getaway destination."
'Unique opportunity'
Scotland House was officially opened by First Minister Alex Salmond, who said the Olympic Games presented a "unique opportunity" to commemorate and build on Scotland's sporting, economic and cultural successes.
He said: "It is vital we take steps to capitalise on this by demonstrating to these visitors what a great place Scotland is to have a holiday or do business in, and what wonderful food and drink and culture we export all across the globe - not to mention our pride in our sporting history, personified by heroes like Eric Liddell.
"Scotland House will help us achieve those aims, with a base right in the heart of London to showcase the very best of Scottish culture, sport, business and tourism during an absolutely fantastic week of events."
"At the same time, we will be able to remind the international sporting community that the next major sporting games will be held on Scotland's shores as preparations continue for the Glasgow 2014 Commonwealth Games," he added.
Scotland House will remain open until 12 August.