Full steam ahead for power firm Aggreko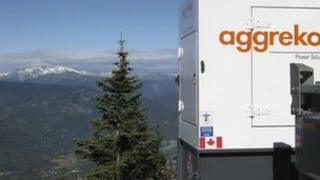 Temporary power generating firm Aggreko has reported a rise in profits, helped along by a £55m contract for the London Olympics.
The company's pre-tax profits for the first half of this year rose by 23% to £148m on sales of £734m.
Aggreko said it had a successful start to the London Olympics which was the world's largest contract for temporary power for a major sporting event.
The firm has 1,500km of cables at 44 sites connecting 550 generators.
About 260 people have been working on the contract for the past few months.
The company's chief executive Rupert Soames said the contract in London was vital and there "had to be a higher level of robustness in the electricity supply than you would need for a normal event".
"You can't really ask Usain Bolt to go back and run the 100 metres again because the clocks have failed," he added.
The Glasgow-based group now has its eyes set on the next summer Olympic Games in Rio de Janeiro.
Aggreko recently bought a business in Brazil. Mr Soames said although the company already had a big presence in the Latin American country, the more recent acquisition solidified that position.
In an interview with BBC Radio Scotland, he said: "It is partly with a view to the fact that over the next four years both the World Cup in 2014 and of course the next summer Olympics in 2016 are in Brazil."
The company has yet to win a contract for providing power at either event, although Mr Soames said it was too early for that and "clearly we are busily trying to engage with the various authorities to persuade them of our capabilities".
Aggreko employs more than 4,500 people operating from 165 locations.
The group's factory in Dumbarton makes generators for the company's global operations.