Deep sea 'solution' to superbugs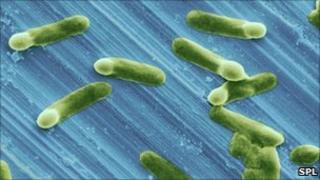 An Argyll firm has announced the discovery of a new antibiotic compound which it believes could combat a number of Multi-Drug Resistant bacteria.
Aquapharm, based at Dunstaffnage near Oban, has developed the compound from research into marine organisms.
The biotech company said it believed the compound could be effective against Clostridium Difficile and types of Staphylococcus and Streptococcus.
Further research is now taking place to test the substance.
Scientists came up with the "AQP-182" compound after screening a portion of its collection of 10,000 marine micro-organisms for substances with anti-infective and anti-inflammatory properties.
It was one of a number of what the company called "druggable" new molecules it had identified.
The new chemical substances are now in development.
Aquapharm's chief scientific officer, Dr Tim Morley, said: "From an initial screening of a small portion of our natural product library we have identified 16 novel compounds belonging to totally novel and diverse chemical classes.
"The most advanced compound AQP-182 has a promising pharmacological and pharmacokinetic profile which is extremely relevant for the treatment of hard to treat resistant bacterial infections."
A clinical trial of AQP-182 is expected to begin later in 2013.
Aquapharm looks at the bacteria and fungi of the marine environment to find new chemistry and biological products.
As well as helping develop new drugs, the company is active in the skin care market.
Of this latest discovery, Aquapharm said it demonstrated the "potential of marine natural products as a rich source of pharmaceutical chemistry".
Prof Simon Best, chief executive of Aquapharm, said: "Not only have natural products been the source of, or the inspiration for, over 75% of the new small-molecule chemical entities introduced as pharmaceuticals over the past 50 years - they remain a fundamental source of new chemical diversity and an integral component of modern science's pharmaceutical armoury."