Scottish Renewables sector 'worth £2.8bn' of investment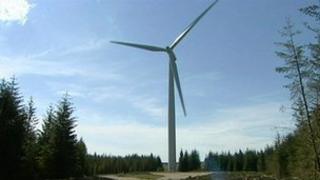 Scotland's renewable energy industry has released figures indicating it has attracted funding worth £2.8bn since 2009.
Trade body Scottish Renewables said 57% of the total was investment in onshore wind power.
A further 21% was for offshore wind developments with solar, biofuel, wave and tidal power making up the rest.
The industry claimed it has been "bucking the economic trend" since the start of the financial crisis.
Niall Stuart, the chief executive of Scottish Renewables, said: "During the downturn our industry has delivered some £2.8bn of much needed capital investment in our economy.
"This has helped to grow the supply chain, secure the future of many companies and support more than 11,000 jobs.
"At a time of sluggish growth, the renewable electricity sector is expanding by more than 10 per cent a year, and now generates the equivalent of 35 per cent of annual demand."
Mr Stuart added: "Onshore wind is the main source of investment, with offshore wind the next biggest driver of spend."
Expansion plans
Meanwhile Glasgow-based renewable energy consultancy firm, SgurrEnergy, has announced plans to double its workforce as part of a three-year expansion plan.
The company is extending its headquarters on Bath Street in the city and said the "fit-out", due to be completed by September, would allow it to accommodate more staff and achieve increased turnover.
The move will take staff numbers to about 180.
Sgurr also said it planned to open a further two international offices to service key regions in 2013.
Technical director and joint founder of the company, Ian Irvine, said: "As the UK continues to navigate its way through difficult economic times and with Glasgow's unemployment rate at a 16-year high, it's fantastic to be able to provide career opportunities in a thriving Scottish-based company.
"The renewable energy industry is growing, both domestically and globally, and demand for our technical engineering services is increasing."
SgurrEnergy, a Wood Group company, is based in Glasgow with six international offices in Ireland, France, Canada, the USA, India and China.