House of Beauly tourist centre enters liquidation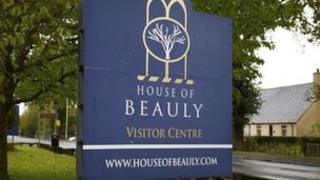 A well-known tourist and retail centre near Inverness has been placed in liquidation.
House of Beauly employed 14 full and part-time staff and had traded for more than 20 years.
The centre, on Station Road in Beauly, included a cafe and clothes and gift shop. It suffered in recent years due to a drop in customers and revenues.
Begbies Traynor were appointed as liquidators on Thursday at the request of the directors.
Four employees were made redundant immediately and the liquidators said there was no real hope of retaining the other jobs.
The remaining staff will stay on to help clear stock over the coming weeks.
The company will continue to trade for a period of time in order to realise the value of stock but is likely to be closed within a matter of weeks.
Joint liquidator, David Menzies, said: "This was a successful business in the past, and without the debt that the firm has built up, and the right management skills to run the firm, it could again be viable, but unfortunately in this economic climate it is more likely that the property will be acquired on its own rather than the business as a whole."