Scottish home buyer demand falls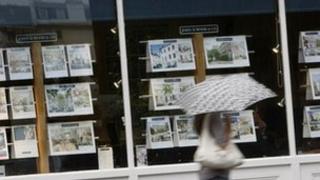 There was a drop in interest from would-be home buyers in July, according to Scottish surveyors.
The Royal Institution of Chartered Surveyors (RICS) said there was also a drop in the number of instructions from sellers.
Surveyors also reported a drop in prices, and further falls are expected in the coming months.
However the industry expects house sales to pick up after the holiday period is over.
London, which has had strong interest from overseas buyers, was the only part of the UK where more surveyors reported price rises than falls.
In Scotland, 27% percent more surveyors expect prices to continue to fall rather than rise.
Sarah Speirs, director RICS Scotland, said: "Activity in the housing market failed to result in a higher level of actual transactions in July.
"Fewer sellers are putting their homes up for sale and the ongoing problem of accessing affordable finance is not helping and does not look set to change in the near future."
She added: "If vendors want to sell their homes quickly, they will have to be realistic in their price expectations."
A recent survey by the property website S1homes found that Scots selling their homes are having to settle for offers about 10% below asking prices.
Comparing advertised prices with the official register of sales, the Glasgow-based company said the "reality gap" between asking and selling prices averaged more than £15,000.