Scottish trading figures suffer July dip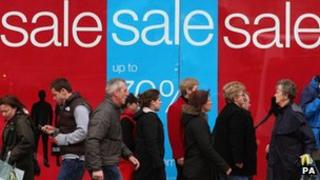 Low consumer confidence and wet weather led to another poor set of trading figures from Scotland's retailers last month, a study has shown.
Total sales fell by 0.7%, with particularly weak food sales.
The Scottish Retail Consortium said the start of the Olympics was seen as having made little difference.
The total spend on food was barely up and stores that were trading through the previous year saw food sales fall by 2.2%.
That is the worst set of food sales figures since the SRC started its survey in 1999.
'Terrible month for sandals'
While total non-food sales were down by 1.5%, and like-for-like down by 2.2%, some retail lines that have done badly for years saw a better month, including some in floorcoverings and fitted kitchens.
Clothing also did better, helped by "severe discounting" and by the school holidays being an opportunity to make purchases for children.
Footwear did not fare so well, with sales clearance the main focus for July. "The wet weather meant a terrible month for sandals," the SRC reported.
Richard Lim, economist with the SRC, commented: "July was not a good month. There's no sign of any pre-Olympic boost for Scottish retail in these figures and cutting back is becoming more widespread.
"Even if people bought party food ahead of the Games, they put fewer other things in their trolleys, leaving food spending virtually the same in cash terms as a year ago."
He said food was falling into line with other categories over recent years, with people focussing on "must-haves".
David McCorquodale, head of retail in Scotland for consultants KPMG, said: "The lack of any feel-good factor encouraging consumers into the shops has provided a set of figures much more indicative of the true underlying trend.
"These show weakness in sentiment as disposable incomes remain squeezed, despite the fall in headline inflation. It's a real challenge for retailers to grow sales and many are only achieving this at the expense of margins."